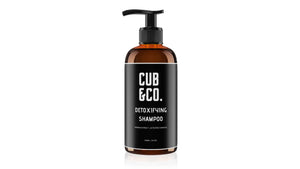 Brought to you by our Australian friends at Cub & Co.
The perfect balance of cleansing and nourishment. Detoxifying Shampoo is in your corner to combat dirt and oil buildup on the scalp and in the hair.  Enriched with Activated Charcoal to draw out impurities complimented by Bamboo Extract to help build strength and promote hair elasticity. Detoxifying Shampoo is formulated for daily use and to suit all hair types.
Size: 250g.


S T R E A M L I N E  S C E N T S 
I N V E R E S K
Top: Cassis and Mandarin.
Middle: Lily of the Valley, Rose, Rosemary, Lavender and Thyme.
Bottom: Amber, Pine, Marine Ozone, Musk, Black Pepper and Oakmoss.


Application
Gently massage into the hair and scalp, immediately rinse. If further cleansing is required, leave in the hair for up to 2 minutes to draw out dirt, dead skin and dandruff. Follow with Cub & Co. Hydrating Conditioner. (Get the Cleanse Bundle and save!)
For external use only, avoid contact with eye area.


Ingredients (vegan)
Distilled Water, Vegetable Glycerin, Cocoamidopropyl Betain, Coco Glucoside, Decyl Glucoside, Simmondsia Chinensis Seed (Jojoba) Oil, PEG-7 Glyceryl Cocoate, Sodium PCA, Bambusa vulgaris (Bamboo) Extract, Fragrance, Phenoxyethanol, Xanthan Gum, Potassium Sorbate, Citric Acid & Activated Charcoal.
*Please note that special offers/discount codes do not apply to this product. We order direct from Cub & Co. in bulk to offer the lowest price you'll find anywhere, including free shipping in the US. Due to the curated nature of the goods and import costs involved, products from our Global Imports section are non-exchangeable and non-returnable unless you received an incorrect item or goods have been damaged in transit. Trade Union Supply items cannot be exchanged for Global Imports items and vice versa. All items in the Global Imports section are final sale, so please commit before ordering. If you have any questions, give us a shout - we're always happy to help!